Welcome to Natalia Dragunova's Kitchen & Bath Design Experience! Hello there, I'm Natalia, a passionate kitchen and bath designer hailing all the way from Slovakia. With over 20 years of experience in designing high-end kitchens and baths in western Pennsylvania, I bring a touch of European charm and style to every project I undertake. But my love for design doesn't stop at kitchens and baths—I'm also a fervent foodie! Today, I invite you to join me on a culinary journey through some of my favorite dishes from my home country.
Here are some of my favorite Slovakian Delights:
---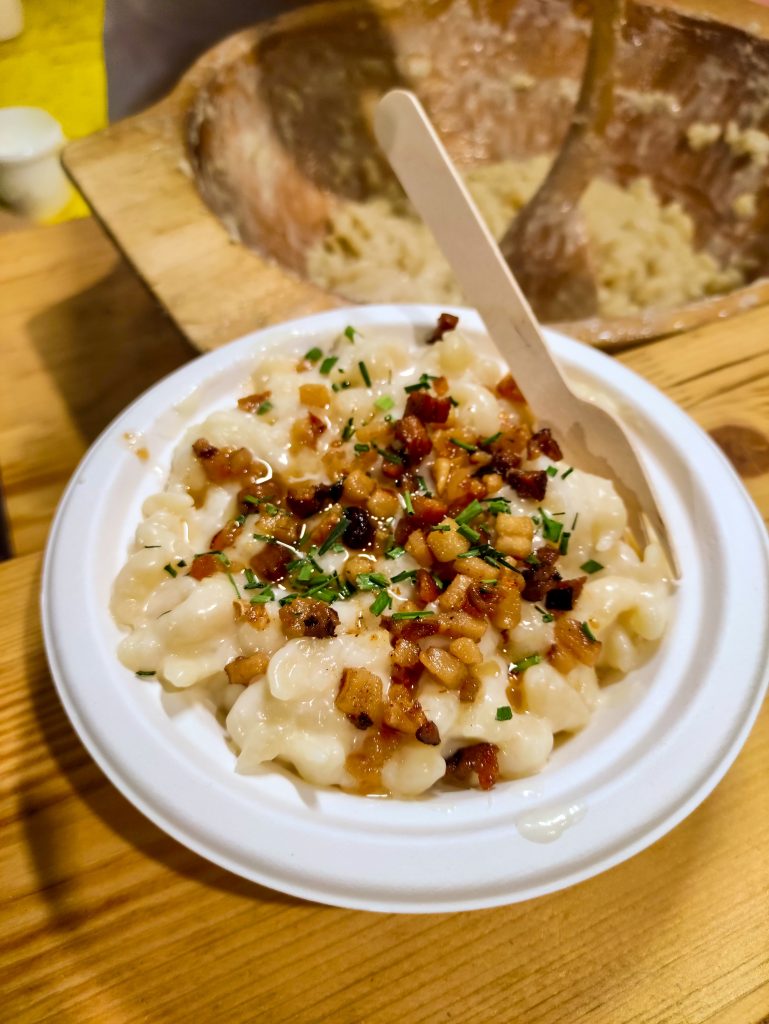 Halušky: First up, we have a classic Slovakian dish that will leave your taste buds dancing with joy—Halušky! These soft potato dumplings are traditionally served with bryndza cheese, a sheep's cheese that adds a delightful tangy flavor. The dish is then topped with crispy bacon bits, creating a mouthwatering combination that's hard to resist. Trust me, once you try Halušky, you'll be craving it again and again!

Ingredients:
2 medium potatoes
1 cup all-purpose flour
1 large egg
salt to taste
One 4-ounce piece slab bacon or 3 slices thick-cut bacon, cut into small pieces
5 oz bryndza cheese (to substitute feta mashed with ¼ cup of heavy cream)
Directions:
Cut bacon into about ½" pieces and add to skillet over medium-low heat. Cook, stirring until golden brown and crisp. Transfer bacon bits to a bowl and set aside.
Peel, finely grate potatoes, keeping the juices. Add flour, egg and salt. Stir until smooth. If the dough is too thick add water, if too runny add more flour.
In the large pot, bring salted water to boil. Set a spaetzle maker or colander over the boiling water (make sure the bottom is not touching the water). Add about half of the mixture to the spaetzle maker and push through into the water with flat spatula. Periodically mix boiling water with Halušky so they don't stick together. Once Halušky hit the hot water they should stay together and not dissipate. If they start falling apart add more flour. Boil Halušky until firm and tender, about 3 minutes. Remove with a large slotted spoon, shaking off excess water.
Toss to coat the hot Halušky with the cheese. Spoon the bacon bits with the rendered fat over the dumplings and enjoy.

Cook's Note: Bryndza is a sheep's milk cheese, made mainly in Slovakia. It's creamy white with a strong tangy flavor. Finding it outside of Europe might be a bit tough, but you can substitute with above directions.
---
Buchty na pare – Steamed Buchty: Prepare yourself for a sweet treat that will transport you straight to the heart of Slovakia—Steamed Buchty. These fluffy, yeast-based buns are filled with various delicious fillings such as jam, chocolate, or poppy seeds. They are steamed to perfection, resulting in a pillowy texture that melts in your mouth. Served warm with a dusting of powdered sugar, Steamed Buchty is the ultimate comfort food that will have you reaching for seconds.
Ingredients:
4 ½ cup all-purpose flour
2 cups milk (warm not hot)
1/3 cup powdered sugar
1 Package Yeast
1 Egg
Pinch of Salt
2 Tablespoon Unsalted Butter (melted)
Jam (of your choice. Thicker the better)
Directions:
In a bowl or large measuring cup mix together warm milk and powdered sugar. Crumble fresh yeast and let is rise for 5-8 minutes.
In a large bowl mix together flour, salt, egg and melted butter. Add yeast mixture and mix it all well together.
Cover the bowl with clean dishcloth and let it rise in warm place. Dough should double or more in size.
After the dough has risen transfer on floured counter and roll it till it's about 1/2″ thick.
Slice it into 3″ x 3″ squares. Place half a teaspoon of jam in the middle. Lifting and pinching together all four corners make a little ball.
In a large pot boil about 3″ of water, cover the pot with dishcloth and wrap around with a string. Make sure the dishcloth is really tight on top and it doesn't touch water below.
Once water starts to boil, turn down the heat on simmer. Place dumplings on top of the dishcloth about 2″apart.
Cover with large pot or bowl. Make sure the steam is not escaping, but staying under the bowl. Let the dumplings steam for 10-12 minutes.
Cook's Note: Fry butter in the small skillet until blown. Make sure it doesn't burn. Place 2 buchty on the plate, pour little butter over top of them and sprinkle cocoa mixed with powdered sugar, or crushed walnuts mixed with powdered sugar.
---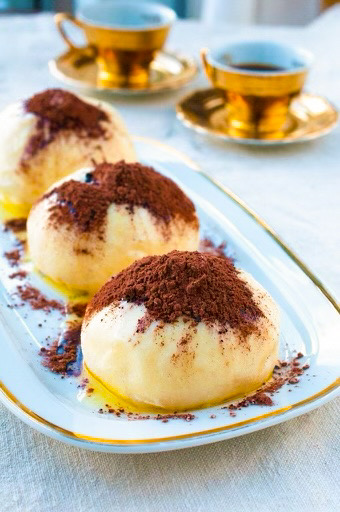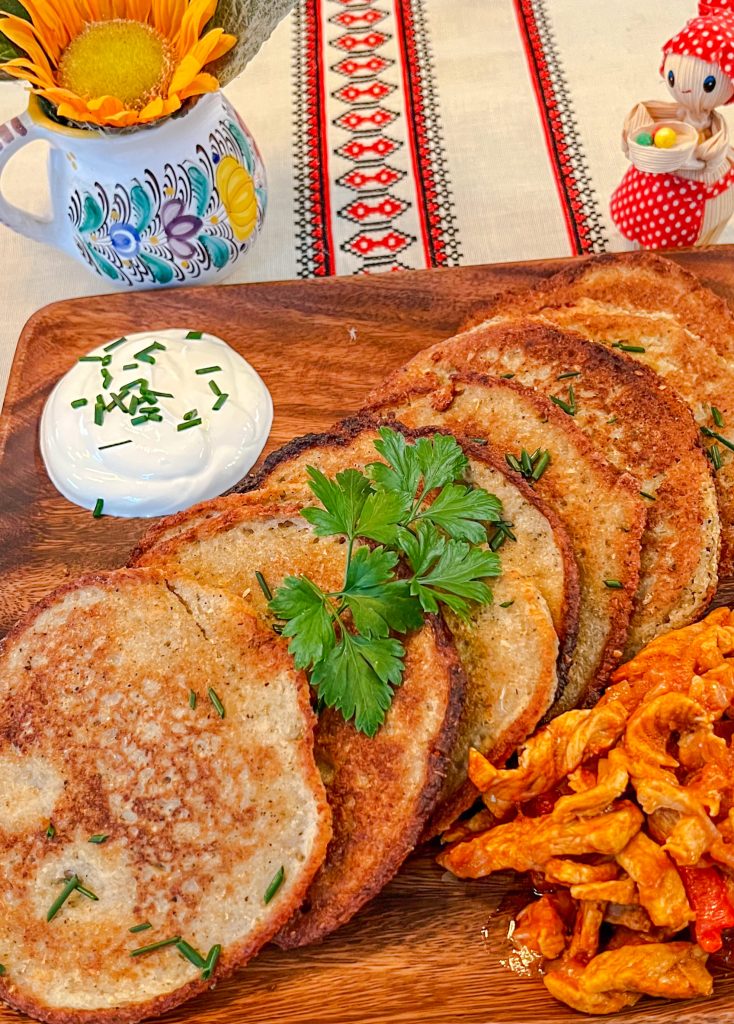 Zemiakové Placky – Potatoe Pancakes: Last but not least, we have Zemiakové Placky, a delightful potato pancake dish that will satisfy your cravings for something crispy and savory. Grated potatoes are mixed with flour, eggs, and a touch of garlic, creating a batter that is fried to golden perfection. These delicious pancakes can be served as a side dish or enjoyed as a main course, accompanied by sour cream or a dollop of applesauce. Zemiakové Placky is a true Slovakian comfort food that will make your taste buds sing.
Ingredients:
4 large potatoes
3 cloves garlic, crushed
salt and black pepper to taste
1 pinch dried marjoram (Optional)
2 teaspoons caraway seeds (Optional)
2 eggs
3 tablespoons all-purpose flour
oil for frying
Directions:
Peel and finely grate the potatoes. Transfer the shredded potatoes to a mixing bowl. Stir in the crushed garlic, salt, pepper, marjoram, and caraway seeds.
Beat the eggs. Add the egg mixture to the potatoes and stir well to combine. Gradually mix in the flour to form a thick but still pourable batter.
Heat the oil in a skillet over medium-high heat; the oil should be about 1/4-inch deep. Spoon about 1/4 cup of batter into the hot oil, flattening it slightly. Fry the pancake until golden brown, about 3 minutes on each side. Drain on paper towels. Taste the first pancake and adjust the seasoning if necessary; repeat with remaining batter.
Cook's Note: You can add ham or cheese to the pancakes before frying them. Enjoy them plain or topped kitchen or pork.
---
Now that I've given you a taste of Slovakia, I'm excited to share more culinary adventures with you. Stay tuned as I create a dedicated space on this website to share my favorite recipes, tips, and tricks from both Slovakia and my design expertise. Get ready to elevate your kitchen and bath experiences while exploring the wonderful world of Slovakian cuisine.
Let's Connect: Whether you're in need of a kitchen or bath transformation or simply want to explore the flavors of Slovakia, I'm here to assist you every step of the way. Feel free to reach out to me through the contact form below. Together, we'll create stunning designs and savor delectable dishes!
Thank you for visiting my web page, and I look forward to embarking on this exciting journey with you.
Dobru Chut and happy designing!
Natalia Dragunova